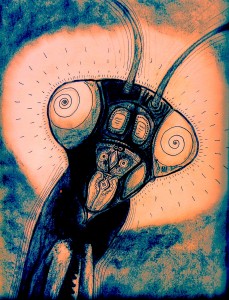 My First Encounter with a Mantis ET during an Ayahuasca Ceremony
Part One of a Series of Experiences
By Soulsalight Member, Luther Birdmaker
What I am going to relate is a series of experiences I've had with a being that seems to fit the description of a Mantis Extraterrestrial, or what I've gleaned about this race of ET beings from the ufology lore. I must say that these experiences are so strangely bizarre to me that I am still living in a kind of philosophical schizophrenia; where, on one side, a large and important aspect of my philosophical and spiritual life - what truly captivates me - has to do with a relationship apparently with an intelligence truly from another world, even another dimension; whereas on the other side, my rational mind, and my training in philosophy, squeamishly and absolutely rejects this interpretation as impossible, or at least very very unlikely.
Yet I am convinced generally that off world contact is not only occurring, but ancient and protean in its reality. As I rationally explore the UFO phenomenon, sifting through the endless vistas of evidence, step by step my rational mind is deciding that there is something undeniable going on. So things are always improbable until they are actual. Now, as an experiment in trying to make sense of this relationship, I have decided to write about it, and to see where that takes me.
As an empiricist and an experimentalist, my attitude has tried to be non-judgmental and skeptical, meaning open to some new kind of reality that may contradict my current beliefs. Someone might say, but what if this turns out to be all some bizarre fantasy, wouldn't that be terrible? To which I say, but what if it is in fact real, and you overlook it because you are too squeamish to look too closely? Which would be the worse epistemological sin?
In any case, as my worldview has been demolished multiple times in the past ten years due to astounding experiences I've had in other domains of reality, I feel I am now well placed, if the phenomena is in fact real, to be able to appreciate it for what it really is, or what it might be prove to be at the long end of our challenge to understand this new reality. I am an epistemological anarchist, meaning that I do not believe in epistemological fundamentalism - the idea that there is only one true path to knowledge, to Truth. New realities require new forms of perception and cognition, and therefore different criteria for proof, for evidence, for interpretation. Imagine the implications if these beings are, as seems to be the case, thousands or millions years ahead of us technologically, and possibly spiritually and morally as well? Will our current forms of knowledge and models of reality be adequate for exploring and understanding this new world?
So I'll begin with the beginning of my conscious awareness of this relationship with this entity. Just describing the circumstances of his first appearance is itself a task since that afternoon would have been extraordinary and life-changing even if the being had not appeared. The occasion was the third day of a three day Ayahuasca ceremony. It is surely Ayahuasca and more specifically, communication with Madracitta, or "Grandmother" spirit which the ingestion of the Ayahuasca brew facilitates, that I must credit with opening up the relationship.
If the reader is unfamiliar with Ayahuasca, it is the most powerful plant medicine in the world, and the center of an ancient shamanic tradition based in South America going back thousands of years. Unlike other psychedelic or entheogenic substances I have experienced, Ayahuasca is the first medicine which allowed me to have telepathic communications with non-human entities. I had believed philosophically before this, that such communications were possible. But it's one thing to believe such a thing is possible, and it is quite another, as I discovered, to actually experience it firsthand. Shamans in Peru sometimes refer to Ayahuasca as 'television of the jungle' for the ways it facilitates communication between different kinds of being and levels of reality. Those who haven't experienced this level of perception may scoff at such talk, but you cannot possibly know what this is like or what it truly is unless you've done the experiment.
Encountering the Madracitta spirit which guides the healing experience during ceremony, and which serves as a spiritual teacher and profound healer is itself a life-changing, worldview-destroying event. For me, it destroyed two firm beliefs that are part of the standard materialist worldview that currently dominates our culture: (1) the belief that human beings are the top of the intellectual-cognitive food chain, and (2) the belief in our fundamental cognitive separateness, that universal communication between beings is impossible. So, just the experience of telepathy was shattering and astounding in itself, and talking with a being that seemed to be more spiritually and philosophically evolved than human beings was even more world-destroying. I was discovering via my own direct, first-hand experience, the reality of a spirit world for the first time. Three years later, I am still stunned with wonder as I begin to assemble a new worldview, this one incorporating the reality of Spirit. It's like there's a whole new axis about which my life now turns, everything has a new meaning, and radiates with profound mysteriousness.
View Full Article ~  Become an Explorer Member. Free!