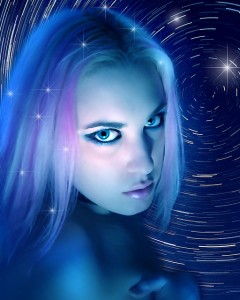 Place of Origin: The Pleiades Star Cluster.
Dimensional Perspectives:  Exist from 3D to 9D
Appearance: Appear much like particularly beautiful Earth humans, with perfect bodies and pleasingly symmetrical features with a luminosity reflecting their higher dimensional frequency.
Evolution:  Evolved millions of years ago as one of the early races of what we would call humankind and look like we do.  This form has been modeled throughout the universe.  Pleiadian DNA has been used to develop many human beings in this universe, including those of our solar system on Venus, Mars, Maldeck and Earth. There still exists newly developing 3D planets in the Pleiades, but the Pleiadians that communicate with us are usually 6D and 9D.  These are dimensions they work well within and from which they contact other worlds. They have light bodies, yet like other higher dimensional ET beings, they can appear in a form that projects what they evolved from.  Having a lot more time to evolve than we have, they have refined their natures and are intensely spiritual and giving beings.
Qualities:  Intuitive, sensitive, imaginative, radiant, communicative, empathic, soothing, nurturing, mystical, understated creativity, healers, counselors, in tune with natural worlds.
Abilities:  Pleiadians are healers on many levels. They can empathize and sooth all pains with their sensitive communication and transfer of light.  They communicate by means of light transfer. These beings have a natural radiance that comes from their mystical knowing of how to connect and share Source light.
Specialties: Pleiadians are called upon to seed new worlds with the essence of evolved human form, and to commune with a planet's consciousness and its existing life in order to introduce new beings and ideas in a nurturing way. They embody the divine feminine and often will show themselves in female form to radiate this refined quality.  
Basic Needs: Peace and sharing.  Pleiadians thrive in places and states of peace and tranquility.  They feel best when they are sharing their refined essence.
Focus: Transferring their gifts of radiance throughout the universe through seeding and communicating their healing vibrations and mystical awareness.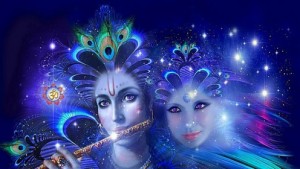 Involvement with Earth: Provided genetic and energetic model for early human development.  They are the missing link in our evolution to our current form.  They were guides for Atlantis and Lemuria and have been involved in the nurturing of many life forms on Earth that began elsewhere, such as whales and dolphins.  They are responsible for infusing awareness into the many methods of energy healing discovered by humans over the years. They are playing an important role in reinvigorating our beliefs in the mystical elements of our knowledge and helping us open to celestial contact in non threatening manners.  They radiate light and soothing energy that we are able to feel because of our genetic link.
Guide for Humanity: Katara (of 6D Pleiadian Emissaries of Light collective)
Star seeds: There are many millions of Pleiadian souls incarnate on Earth and have been since Lemuria.  These souls are here to remind us of our divinity and our connection to Source consciousness.  They come as healers and inspire us to nurture our spirits and that of the planet. These souls are sensitive and usually extremely intuitive.  They also light up the room when they walk in and tend to heal without even knowing. They communicate well with others and are good empathetic listeners.  Most leave their presence with a new sense of joy and gratitude.   These human star souls often have physical beauty and most incarnate as females and exude feminine strength.  They can be overpowering for some human male Earth souls, as they radiate such deep feminine mystique.  They are often water signs that flow with emotion and passion and connection to the blood of Gaia.  Pleiadian souls connect easily to nature.  Animals love them and become calm in their presence.  These star seeds can also bring the essence of a person's soul to the surface and can reflect their purpose and encourage their mission. They are often found in professions of spiritual mastery, healing, psychology, communications, child care, and fields related to ecology and care for the Earth.  They often volunteer for causes and give a lot of themselves.  
* Amariah put this information together from  her many telepathic contacts with Pleiadians, including guides from the Pleiadian Emissaries of Light and other councils, and individual guides  for Pleiadian starseeds.