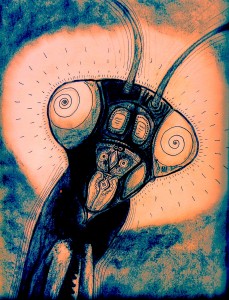 Place of Origin: These beings are from the Sombrero Galaxy or M104 which is 28 million light years from earth. Yes, in a galaxy far far away.
Dimensional Perspectives:  Exist from 3D on up to 9D
Appearance: These are insectoid beings that have features similar to the Praying Mantis insects of Earth, but they stand upright and are at least 8-9 feet tall. Higher dimensional forms are energy beings that maintain their Mantis shape with colorful light.
Evolution:  These beings evolved hundreds of millions of years ago on a planet of insects. They became the first to develop advanced self awareness. They developed the use of tools but in unison they became highly sensitive to sound and light and its reflection in colors.  They used this special heightened awareness and became highly advanced in the connection and use of frequencies to change their environment and to communicate with each other and their surroundings. In their historical past, Mantis were matriarchal.  They have strong female figures who dominated their cultures. Higher dimensional beings have created a more balanced arrangement with these energies. However, the feminine force is still regarded highly and one would not want to diminish this power with a Mantis around.  And no decision is ever made without the female aspect first being taken in and it has the final say.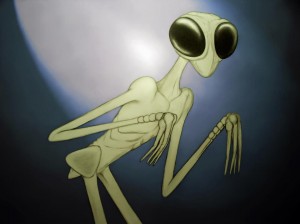 Qualities:  Sensitive to sound, color, and vibrational nuances, luminous, spiritual, healers, graceful, fluid, artistic, penetrating, influential.
Abilities:  The Mantis beings are masters with vibrations of sound and color. They use this mastery to heal and create.  They are artists of universal light. They dance through frequencies and alter their surroundings as they do so. Mantis beings create bubble like force fields to travel through time and space.  In lower dimensions they create living spherical ships of light. In higher dimensions they can send their light bodies in single bubbles of light across the universe.
Specialties: Mantis beings are called upon to give guidance and direction to assure high quality standards to all kinds of projects.  They assure that the frequencies are appropriate and that the atmosphere and players are conducive to the particular outcome that is desired. They are like the mural painters and anthem singers of in the universe. They bring the right elements together.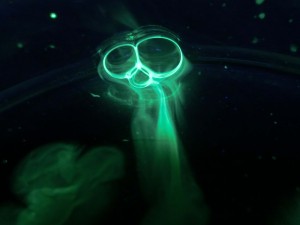 Basic Needs: Fluidity and Admiration.  Mantis beings need the flexibility to do their fluid dance and they truly love their work to be admired and the blessings of it to be received.  
Focus: Weaving color and sound to create and enliven the light web of the universe.
Involvement with Earth: The Mantis are assisting, and in many ways overseeing, the Zeta Reticulan hybrid program, and human spiritual advancement project. Like the Zetas, they were asked by Galactic Councils to participate.  They are assuring that universal principals are adhered to as well as giving their expertise in frequency alignment. They are the artists in the hybrid process, if you will.  They are often seen in the background during abduction experiences. These are usually 4-5D Mantis beings, but they are tuned into guidance from their higher dimensional kin, who play a part in spiritually guiding them.  Prior to this recent involvement, Mantis have had little to do with Earth, other than gifting the planet with the Praying Mantis insect that has since evolved into many glorious colors. These little creatures hold special energy of their Mantis parents.  It is no wonder that they are revered by many and are often seen as positive omens.

Guide for Humanity: Kizmet (9D Mantis)
Star seeds: There are over 800,000 Mantis souls incarnated here now and only since the recent hybrid program began.  This is a new experience for the race and it is not an easy one.  Many of these starseeds feel completely out of place on Earth and in a human body, unless they are of the younger generation who also have Zeta DNA. These souls have it easier as there is a lot of Mantis frequency in their chemistry that is aligned with their being.  Those born prior to the 90's, and there are not as many of these, may have had a hard adjustment period in life.  They have felt that if anyone really knew what they are like, they would run, so they hide their inner truth in some way.  It has been a difficult task for their angels and other guides to get them to open up and share what they came to share.  Once they do open up, their intensity, art, and ability to know what needs to be done to create the perfect environment is uncanny.  They are usually artistic in some way.  They are writers, musicians, poets, designers of space and events.  They have a knack for bringing pieces of a puzzle together and making it sing.  Their gifts lie in bringing energy, aesthetic appeal, and vitality to whatever they do. They are here to use these gifts to infuse higher frequencies into hearts and environments through form, sound and color.  No one can do this like a fluid dancing Mantis soul. Even if they are in the sciences, or some seemingly uncreative profession, they will bring some extra flare to their job.  They are also a huge help to the new generation of souls being born with advanced DNA as they help them align with their higher potential.

* Amariah assembled this information from her telepathic contacts with Mantis beings, including guides for individual starseeds.