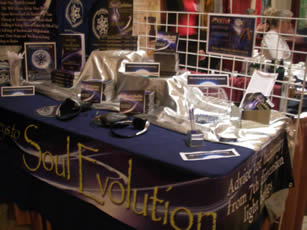 Author and telepathic conduit, AMariah Mara, is dedicated to sharing the wisdom of higher dimensional beings.
She is currently not touring for events or offering seminars.  She is working on developing Soulsalight.com and two new projects, a deck of ET Oracle Cards and a book on Telepathic Contact Experiences. 
Amariah is open to radio and print interviews and covering ET experiencer events.  Please Contact Us  to request a press package with information on conducting an interview for your media outlet.
Listen to previous radio interviews with Amariah on her website Simion7d.com, dedicated to the messages of Simion, The Evolutionary Collective of 7th dimension light beings and authors of Keys to Soul Evolution through Amariah (Jill Mara).